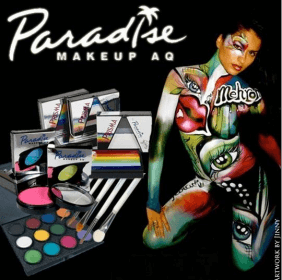 Theatrical, Special Effects, Halloween, Face Paintings
Everyone loves to dress up and become someone or something else. MEHRON PERFORMANCE MAKEUP is designed to allow for creative, safe and easy application and design. Their makeups are easily removable, often with soap and water. All are manufactured in the United States to the highest standards and contain only FDA approved ingredients, making Mehron makeup the perfect choice for children and adults alike. With Mehrons unparallelled selection of products and colors, your creativity can run wild!


GLOBAL COLOURS is a world leader, famous for the quality and safety of their water-based products. One of the most appreciated cosmetic lines offered by them is their BodyArt range, used by professional artists and on movie sets worldwide. The rich colours can enable you to create astonishing designs on the whole body. Containing 32g, a perfect size for the busy, professional makeup artist. The most important attribute is that the range comprises a wide variety of colours that will meet the demands of all makeup artists. Your favorite design will be ready in no time!


WOLFE FACE ART & FX is a makeup design company best known for its unique products and cutting edge makeup application techniques. Wolfe has truly revolutionized the industry by combining traditional theater makeup and fast-paced face painting into a totally new type of face and body art.